Survival Heroes Brasil is announced by Xcloudgame
Xcloudgame is once again bringing news to its mobile gaming lovers audience. Its new game, Survival Heroes Brasil, is scheduled for release in November this year. It is a wonderful mix of MOBA (Multiplayer online battle arena) and Battle Royale, two elements that have been a big hit in the latest games on the market. . Therefore, Xcloudgame, in partnership with Snail of China, will launch this new game in Brazil.
Survival Heroes was first launched in China in August 2018 and was a huge hit in the Asian market with over 500,000 active daily players in the first month after launch and ranking second in Thailand's most downloaded games. In October of the same year it was announced that the game would be available to the United States, Canada and Mexico. Now Xcloudgame brings this success to the Brazilian public.
For more information on the official release of Survival Heroes Brazil, follow the official pages:
Facebook Official Page: https://www.facebook.com/br.survivalheroes/
Survival Heroes Brasil Official Website: https://survivalheroes.xcloudgame.com
Xcloudgame Website: https://www.xcloudgame.com/
NOSSO PRODUTO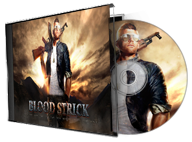 Blood Strike